Dallas Mill Deli
Huntsville's Hometown Deli
Huntsville's Hometown Deli
Dallas Mill Deli is "Huntsville's Hometown Deli" and has been serving patrons in the greater Huntsville, AL area since 2006.
Lindsey Jennings, lifelong resident of Huntsville, purchased the Deli in October of 2012.
Dallas Mill Deli delivers high quality food in a friendly, relaxed atmosphere that is suitable for the whole family!
Our homemade CHICKEN, TUNA and EGG SALADS; delicious HAM, TURKEY, ROAST BEEF, BOLOGNA, CHICKEN, BLT, CLUB, GRILLED CHEESE, PBJ, and the unique SOUTHERN REUBEN sandwiches; the BEST BURGERS in town; a variety of SALADS, SOUPS; our Famous STRAWBERRY PRETZEL SALAD and DESSERTS will have you coming back to Dallas Mill Deli often!
Located near downtown Huntsville, we are easily accessible from all areas of Huntsville, including Redstone Arsenal and Research Park.
Choose DALLAS MILL DELI to cater your next business luncheon with our affordable and unique Box Lunches! We DELIVER right to your door!
Browse though our website for menus and much more!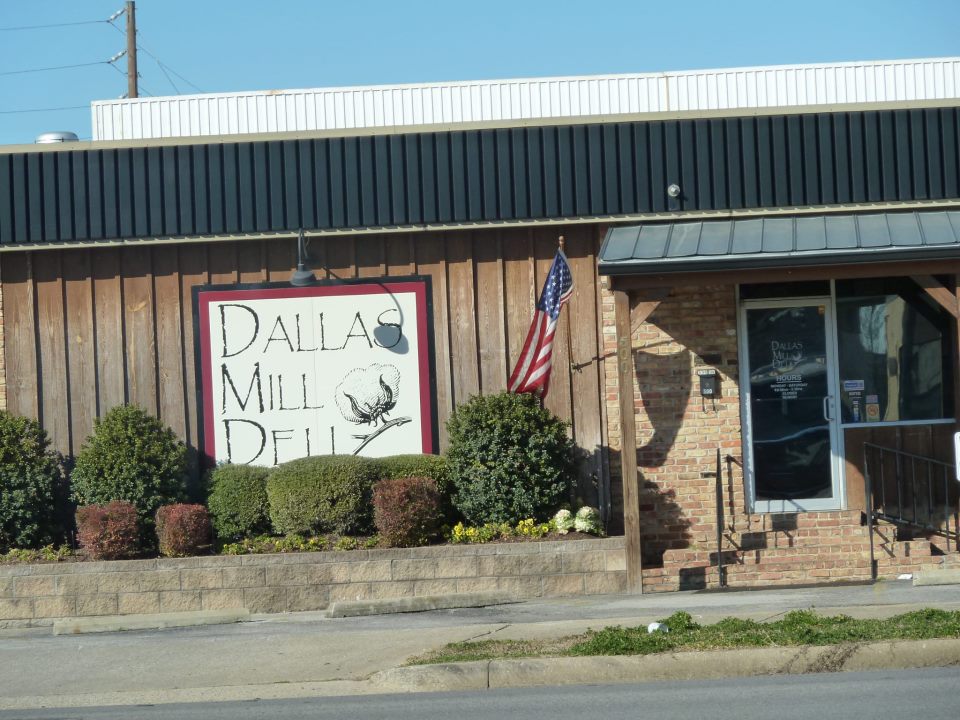 As you know, Dallas Mill Deli is decorated with a lot of memorabilia from Huntsville's past. We had a very special visitor stop by! His name is Jackie Koontz. He is pointing to a photo on our wall that shows him as a child during the 1940's at Fleming's Farm. We were so happy that he and his family came in for lunch! We TRULY are Huntsville's Hometown deli! ...
Dallas Mill Deli
500 Pratt Avenue NW
Huntsville, AL 35801
Monday – Saturday
10:00AM – 2:30PM
256-489-DELI (3354)